Highlights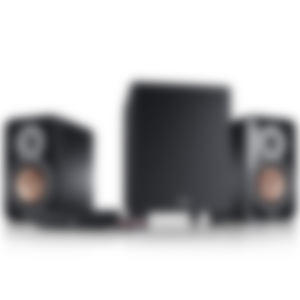 Why we love this product
The Ultima 20 Complete is perfect for those who want an out-of-the-box stereo solution that doesn't require a lot of space. Two Ultima 20 bookshelf speakers deliver uncompromising hi-fi playback supported in the low end by an easily placed wireless subwoofer. The CoreStation Compact unifies the ensemble. It fires the stereo speakers to high levels and transmits the subwoofer signal wirelessly.
Key advantages at a glance
Plug-and-play 2.1 with the Ultima 20 Mk2 hi-fi bookshelf speakers
A system for powerful & detailed playback with music, movies and games
Compact fanless 2.1 stereo receiver can be mounted directly behind a television or furniture
Comes with handy Puck remote for regulating volume settings and moving between sound sources
Includes HDMI ARC & RCA input, can be controlled via standard TV remote thanks to HDMI CEC
Wireless, space-saving downfire subwoofer has the largest woofer in this price class
Bluetooth 4.0 with apt-X codec makes it possible to stream music in CD quality
Comes with loudspeaker cable (15 m) and HDMI cable (1.5)<br />
Features
All technologies at a glance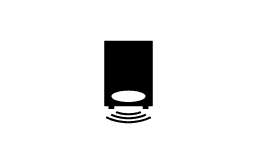 Downfire-Subwoofer. Der Tieftöner ist zum Boden hin ausgerichtet.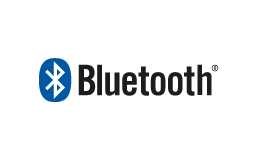 Streame Musik kabellos vom Smartphone, PC, Notebook oder iOS- bzw- MAC-OS Gerät auf den Lautsprecher. Videoton wird Lippen-synchron übertragen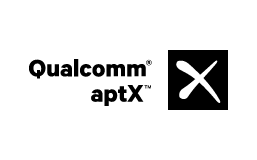 Bluetooth aptX
Suitable for the transmission of images (including 3D) and sound (including HD) between devices such as Blu-ray players, TVs, AV receivers and soundbars.

The HDMI version 1.4 supports the following features / uses:

3D
sRGB
YCbCr
8 Channel LPCM (192 kHz, 24 Bit)
Blu-ray and HD DVD Video with maximum resolution
CEC
ARC
DVD audio
Super Audio CD
Auto lip sync
Dolby TrueHD Bitstream
DTS-HD Master Audio
Ethernet Channel
4K resolution

Optimal connectivity
Robust gold-plated jacks facilitate a secure, distortion-free connection.

OFC Copper
The HDMI copper cable is made from oxygen-free copper with 99.99% purity so that oxidation will not in any way weaken the cable or hinder its transmission abilities. Copper with a high degree of purity is treated in special process in order to create a robust cable capable of transmitting transparent sound free form colouration.

Robust jacket
The extremely robust yet flexible outer jacket protects the high-quality cable inside.

Delivery
One cable plus cable ties are included in separate packaging.
A Teufel cable with a 1.0 mm² cross sectional area is recommend for multimedia systems and less expensive home cinema systems where only short distances need to be covered.
CCA Wires
The wires within this cable are made from copper-clad aluminium. CCA cables have the same electric conductivity as full copper wires but weigh less, making them easier to work with.
More wire strands per cable
The loudspeaker cable contains an especially high number of strands for extra flexibility and conductivity.
Robust jacket
The extremely robust yet flexible outer jacket protects the high-quality cable inside. The positive pole is indicated.
Connection
The loudspeaker cables can be connected directly to the amplifier/loudspeaker or by means of a banana plug.
Delivery
One loudspeaker cable plus cable ties with Velcro is delivered in separate packaging.
Premium speakers
Quality you can trust: The Ultima 20 are among the best bookshelf speakers in their price class. Our developers in Berlin made sure this stereo pair has the best-possible sound thanks to the following:
Large 25 mm tweeters for a silky, soft treble
Large 165 mm midrange drivers with phase plug produce balanced, evenly dispersed sound
Trumpet bass reflex vents eliminate wind noise and chuffing for deep, clean bass
Klippel-optimized drivers ensure an incredibly balanced frequency response
Each driver has been optimized by first-class Klippel technology – a first for speakers in this price class. This precision calibration technology allows the Ultima 20 to produce linear and balanced playback. Bass reflex ports with trumpet vents enhance the bass without wind noise. Well-braced wooden enclosures minimize vibrations resulting in a very clean sound.
Established, universal, timeless
The Ultima 20 Mk2 scores points on style with harmoniously rounded edges, compact dimensions, and cleverly accented drivers – a self-confident look sure to enhance any interior. The speakers can be seamlessly integrated into any home, fitting easily on either a shelf, wall, or floor stand.
A power house for smaller systems
The CoreStation Compact is among the smallest and most unobtrusive 2.1 stereo receivers on the market today. The little system requires no more space than a sheet of paper.
Sufficient power for shelf and small floor-standing speakers
The CoreStation Compact delivers 2 x 40 watts RMS from a highly efficient and extremely low noise class D amplifier from Texas Instruments. Fill rooms up to 25 m² with high, distortion-free levels.
No fan - no operating noise
The completely passive, fanless construction on a solid aluminium base guarantees silent and maintenance-free operation.
Works with wireless subwoofers
The CoreStation Compact has an integrated wireless module. This makes it possible to communicate with a wireless subwoofer such as the T 4000 or any standard sub equipped with Teufel's Subwoofer Wireless Receiver. The signal will be sent wirelessly, losslessly and without discernible latency.
Bluetooth 4.0
The CoreStation Compact uses Bluetooth with the sophisticated aptX codec. This makes it possible to stream music via Bluetooth in a sound quality that cannot be distinguished from a cabled source. Simply activate Bluetooth on the system and the CoreStation will transmit all the audio from your mobile device to your speakers. Enjoy music from Spotify, YouTube and iTunes as well as audio from Facebook, apps and games in pristine sound quality.
Flexible controls
The CoreSation Compact can controlled in a number of different ways. Use the Puck Remote, your own TV remote or the controls on the device itself. The eco-friendly little system automatically shuts itself off after 20 minutes with no in-coming signal.
Included components
Ultima 20 Complete "2.1-Set" (2017)
1 × Pair Shelf Speaker UL 20 Mk2 – Black

2 × Shelf Speaker UL 20 Mk2 – Black

1 × Mono-Subwoofer US 2106/1 SW – Black
1 × 15 m Speaker Cable 1.0mm² - C1015S – Black
1 × HDMI-Cable 1.4 1.5m - C1515V – Black
1 × Sub Connect RX – Black

1 × Mono-Cinch-Cable 0.5m - C3005A – Black
1 × power adapter – Black

1 × CoreStation Compact – Black

2 × VESA Mounting Brackets for CoreStation Compact
1 × Power adapter for CoreStation Compact
1 × Puck Wireless Remote Control – black - red
Specifications
Shelf Speaker UL 20 Mk2

Hi-fi bookshelf speaker with two-way construction in a bass reflex enclosure. Excellent bass playback, neutral mids and detailed highs thanks to the 165 mm midbass driver with phase plug along with a 25 mm tweeter. The Ultima 20 MK 2 has a performance capacity of 80 watts with distortion-free playback in rooms up to 25 m².


| | |
| --- | --- |
| Width | 21,5 cm |
| Height | 33,5 cm |
| Depth | 24 cm |
| Weight | 6 kg |

| | |
| --- | --- |
| Terminal clamps | Gold-plated screw terminals |
| Minimum amplifier output power recommended | 30 W |

| | |
| --- | --- |
| Suitable for AV receiver | Yes |
| Suitable for banana plug | Yes |
| Maximum cable diameter | 4 mm |
| Equalisation openings (pos.) | Backside |
| Equalisation openings | 1 |
| Diameter of the stand screw threads | 6 mm |
| Removable front cover | Yes |
| Enclosure material | MDF |
| Enclosure surface | Laminated |
| Net internal volume | 10 L |
| Tweeter (number per enclosure) | 1 |
| Tweeter (diameter) | 25 mm |
| Tweeter (material) | Fabric |
| Bass/Midrange driver (number per enclosure) | 1 |
| Bass/Midrange driver (diameter) | 165 mm |
| Bass/Midrange driver (material) | Kevlar/ fibreglass |
| Continuous power handling (IEC - Long Term) | 50 W |
| Sensitivity (2.83 V / 1 m) | 84 dB |
| Frequency range | 70 - 20000 Hz |
| Peak power capacity (IEC - Short Term) | 80 W |
| Maximum sound pressure level | 104 dB/1m |
| Impedance | 4 - 8 Ohm |
| Crossover frequency to Woofer (recommended) | 80 Hz |
| Acoustic principle | 2-way-system |
| Enclosure type | Bass reflex |
| Crossover frequency internal switch | 2600 Hz |

Mono-Subwoofer US 2106/1 SW

The subwoofer US 2106/1 SW knows how to makes its present felt, but it can also show amazing restraint and blend into a supporting role. A 43 Hz low end frequency limit (-3 dB) and a maximum sound level of 106 dB creates an impressive bass experience, yet the enclosure takes up only a small amount of floor space  - just 28 x 28 cm.

| | |
| --- | --- |
| Width | 28 cm |
| Height | 38,5 cm |
| Depth | 28 cm |
| Weight | 7,8 kg |

| | |
| --- | --- |
| Cinch input | 1 |

| | |
| --- | --- |
| Power supply voltage | 230 V |
| Automatic on/off | Yes |
| Maximum power consumption | 100 W |
| Mains lead fixed | Yes |
| Safety class | 2 |
| Storage for settings when disconnected | Yes |
| Standby-Function | Yes |
| Standby-Power consumption | 0,4 W |
| Bass boost/EQ | Yes |
| Input gain adjustment | Yes |
| Level control | Yes |
| Phase control | Yes |
| Power output capacity sinus (RMS) Bass | 80 W |
| Power output capacity impulse (peak) Bass | 100 W |
| Amplifier configuration | 1.0 |
| Amplifier technology | Class D |
| Amplifier channels | 1 |

| | |
| --- | --- |
| Lowest frequency (-3 dB) | 43 Hz |
| Suitable for AV receiver | Yes |
| Equalisation openings (pos.) | Bottom |
| Equalisation openings | 2 |
| Downfire | Yes |
| Diameter of the stand screw threads | 6 mm |
| Removable front cover | Yes |
| Enclosure material | MDF |
| Enclosure surface | Laminated |
| Integrated stand | Yes |
| Woofer (number per enclosure) | 1 |
| Woofer (diameter) | 160 mm |
| Woofer (material) | cellulose |
| Sensitivity (2.83 V / 1 m) | 89 dB |
| Frequency range | 43 - 200 Hz |
| Maximum sound pressure level | 106 dB/1m |
| Impedance | 4 - 8 Ohm |
| Acoustic principle | 1-way-system |
| Enclosure type | Bass reflex |

15 m Speaker Cable 1.0mm² - C1015S

| | |
| --- | --- |
| Cross-section | 1 mm² |
| Cable length | 15 m |

CoreStation Compact

Ultra compact 2.1 receiver with high-end electronics.

| | |
| --- | --- |
| Width | 18,5 cm |
| Height | 3,7 cm |
| Depth | 17,4 cm |
| Weight | 0,75 kg |

| | |
| --- | --- |
| Bass driver output | 1 |
| Cinch input stereo | 1 |
| Terminal clamps | Loudspeaker terminals |
| Bluetooth | Yes |
| Bluetooth aptX | Yes |
| Video inputs- HDMI | 1 |
| High level speaker outputs | 1 |
| HDMI Version | 1.4a |

| | |
| --- | --- |
| Integrated DSP | Yes |
| Automatic on/off | Yes |
| Maximum power consumption | 90 W |
| Storage for settings when disconnected | Yes |
| Standby-Function | Yes |
| Standby-Power consumption | 0,4 W |
| Power output capacity impulse (peak) Satellite | 45 W |
| Amplifier configuration | 2.1 |
| Amplifier technology | Class D |
| Amplifier channels | 2 |
| Power output capacity sinus (RMS) Satellite | 40 W |
| Performance measured by | 4 Ohm |

| | |
| --- | --- |
| Maximum cable diameter | 1,5 mm |

Puck Wireless Remote Control

Puck wireless remote control for remote control of many Teufel systems

| | |
| --- | --- |
| Width | 8 cm |
| Height | 3 cm |
| Depth | 8 cm |
| Weight | 0,32 kg |

| | |
| --- | --- |
| Bluetooth | Yes |

| | |
| --- | --- |
| Remote control | Radio |